It was a cool spring evening in June of 2012. A young beautiful nanny living the dream in Hollywood thought it might be the most romantic evening of her life. She'd been dating a famous Hollywood heartthrob for months, and she had told him earlier that day that she thought she was finally ready to give him her virginity. However, her fairytale quickly turned into a life-changing nightmare.
Earlier that year, Jennie Marie Pacelli met Glee star Mark Salling when she was 22-years-old at the W Hotel in Hollywood. They were at the hotel's popular weekly Jazz Night when they locked eyes. Pacelli and Salling began dating shortly after their chance meeting. But Pacelli had given Salling one condition: she was saving herself for marriage.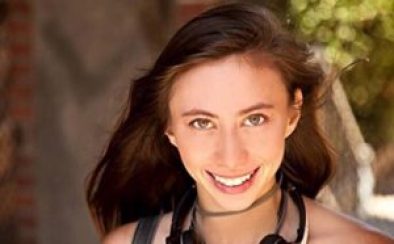 "I told Mark I had a purity ring and I was saving myself for marriage," Pacelli said. "I said sex most likely wouldn't happen and he was OK with that. He told me he was a Christian and loved God too."
During the course of their relationship, Salling swept Pacelli off her feet by wining and dining her and showering her with compliments. "I thought I had found my Prince Charming," Pacelli said. "He was the first guy to tell me how beautiful he thought I was. He made me feel so special when I was with him and he still respected my decision to not have sex. I thought I had found the one."
Pacelli's life took an unexpected turn when her 18-year-old cousin tragically died in a car accident. "It made me think what if I died tomorrow without experiencing sex?" At the time, Pacelli didn't have the support of her immediate family to cope with the loss and she feared Salling was slowly slipping away from her. "I was vulnerable at that time and I was afraid I was going to lose Mark too," Pacelli said. "So I told him I was maybe OK with having sex and he jumped at the chance."
Pacelli gave Salling a list of conditions that included a romantic dinner, candles and rose petals on the bed. On June 6 in 2012, Salling took Pacelli to dinner at Unami Burger and then they went back to his home in the Hollywood Hills. Salling made Pacelli a drink and told her it would help her relax.
Pacelli asked Salling if he had a condom and he told her she didn't need one since it was her first time, according to Pacelli. "I thought that's not logical and got fearful," Pacelli said. Pacelli told Salling that if he wasn't going to wear a condom she didn't think she could have sex with him. Salling brushed off her concerns and told her not to worry. Pacelli said Salling grabbed a towel and put it on his bed telling her "just in case".
Salling started kissing Pacelli and she froze. "I got really frigid and told him I can't do this," Pacelli said. "He told me 'that's OK we'll just do the small stuff'". Salling continued to kiss Pacelli and told her he was just going to put his finger inside her. "He told me he was going to put his finger inside my vagina – instead he put his penis inside me," Pacelli said. "I said 'no no no no no – can you please stop?' I told him it hurt too much and I kept repeating I can't do it, please stop!"
Pacelli said Salling refused to stop and kept telling her it was going to be OK. "He kept going and wouldn't stop," Pacelli said. "I started crying — I wanted to leave but I couldn't because he was on top of me." Pacelli said she finally asked him if she was still a virgin. "He said 'no' and I died inside." Pacelli said she eventually blacked out. When she woke up, Salling was asleep in bed next to her. Pacelli crawled on the floor and cried for hours.
Pacelli says a week after the alleged sexual assault she went to Planned Parenthood to get a pregnancy test and STD tests. "Four days later I got a call that I was positive for Chlamydia," Pacelli said. Pacelli said when she confronted Salling about this, he denied having STDs. He accused her of getting STDs from someone else and claimed hix ex-girlfriend did that to him.
Pacelli told Salling she hadn't had sex with anyone else. Salling got tested and texted her two days later that he was positive for Chlamydia too. Pacelli said she was in denial about the rape and continued to date Salling for several more months. "Because of my Christian faith, I felt that I had to stay with him since I gave him my virginity," Pacelli said.
However, Pacelli said her big wake-up call was when Salling infected her with Chlamydia a second time. "That was my awakening!" Pacelli said. "I realized my life was in danger with this man – he could eventually give me AIDs!"
Pacelli didn't acknowledge that Salling had raped her until she went into therapy years later. "I was living in denial," Pacelli said. "I wasn't able to admit I had been raped until I went to a therapist. My therapist helped me realize that I had been raped."
Pacelli didn't report the rape till March of 2016. After news had broke that Salling had been arrested for child pornography in December of 2015, she felt an obligation to come forward. "I knew the longer I stayed silent the more power he had to endanger more people," Pacelli said. "I'm a nanny who works with kids — I felt that if I didn't share my truth about him than I'd be guilty of enabling him."
Los Angeles Deputy District Attorney Emily T. Spear wrote in 2016 that although Pacelli appeared "credible and [an] accurate historian" of events surrounding the rape, they declined to prosecute the case for various reasons including the delay in reporting the rape. In 2013, Salling's ex-girlfriend Roxanne Gorzella sued him for sexual battery. He settled that case for $2.7 million in 2015.
Pacelli got some closure last year when she confronted Salling about the rape over the phone in a recorded conversation. When Pacelli asked Salling if he was sorry for what he did, Salling replied "sorry".
In the audio Salling appears confused and possibly intoxicated. Salling repeatedly asks who is calling in the beginning. Pacelli says in the audio that she just needed Salling to be sorry.
Pacelli: "I just want you…I don't know. I just…that first time that we did it, pretty much ruined the rest of my life. I didn't want to do it really. I was just coming off my cousin dying and all that stuff. I just need you to be sorry that you let it happen and that you did that."
Salling: "I'm sorry."
Pacelli: "You basically took advantage of me. You are – are you really sorry?"
Salling: "Yeah, I'm sorry."
Pacelli: "Wow. And I hate using that word and I don't want to use that word. The R-A-P-E word or whatever. Even though I did say I'd do it in the beginning, there were so many moments that I was like I didn't want it to happen and even during it I told you not to. I don't know how you could've kept going knowing that I was screaming 'God please forgive me of my sins' in the middle of it."
Salling: "What the f*** are you talking about?"
Paecelli: "I don't even understand how you never wear protection, do you at least now think about wearing condoms?"
Salling: "Yeah."
Pacelli: "Well, that's good."
Salling: "Sorry."
Pacelli: "Well, that's all I wanted so thank you for apologizing."
Pacelli has made it her mission to help other victims of rape and sexual assault. After the assault, Pacelli went to the Philippines to help with Missionaries of Charity in Manila. "While I was there I met a lot of children who are victims of rape and human trafficking," Pacelli said. "I knew I had to help make a change." Pacelli is making a documentary film to share her story titled The Heart of Us. You can view the trailer here. In another trailer promoting the film, other survivors who have faced abuse share their stories. Also, Pacelli started a petition on Change.org to end all statute of limitations for reporting rape.
Last week Salling plead guilty to possession of child pornography. He will serve between four and seven years in prison.
Liz Crokin is an investigative journalist and the award-winning author of Malice.
If you are able, please support Liz Crokin's ongoing fight against child trafficking with prayer and by clicking here.