When I awoke to the news last week that Tareq and Michaele Salahi crashed a White House party I had to laugh.
Not because it's funny. It's not. However, as someone who has made her way into many A-list parties without necessarily, er, uh, a formal invite – including parties with US presidents – I know firsthand how disturbingly easy it can be.
Here's five easy steps I've used to crash an A-list party:
1. Walk in right behind a VIP.
When I was interning at the Democratic National Convention in Los Angeles in 2000, I snuck on a bus headed to a blowout A-list party at one of the big Hollywood studios with special guest President Bill Clinton. I couldn't score an official credential to the bash, but I was determined to get in anyway. Upon arrival I saw a man who looked like a Secret Service agent storming through the security line. So I followed right behind him. As guards scoured through other guests' purses – I breezed by two security checkpoints without having to show so much as an ID. The security personnel, I think, assumed I was with the secret agent man. The only real obstacle I encountered was Joan Rivers' microphone in my face as she begged to know: "Darling, who are you wearing?"
I pulled this same maneuver at an Indy 500 party. I was covering the event for Us Weekly, and someone dropped the ball and forgot to credential me. So I moseyed on over to the red carpet and walked in right behind some big NFL star. I signaled to people that I was with him, and ended up not only getting into the party, but I also landed an interview with Anna Nicole Smith. To this day, I bet the Secret Service agent and the football star have no idea they entered those parties with a guest!
2. Just keep walking.
I also crashed an A-list party for the Democratic National Convention at a private home in the Hollywood Hills. I knew a few people attending, but never received a formal invite. I arrived with a male friend, and saw there was a check-in table. So I just started walking and didn't stop. As I blew past the table I heard a woman shout "excuse me, miss!" At that point I stopped, began to slowly turn around and then I realized that if I did, my night would end right there. So instead, I flicked my hair back in true diva form and kept walking. My male friend followed behind me and pulled the old "I'm with her!" We ended up being one of the very few guests at this party who weren't A-list celebrities.
3. Look for a sucker.
When I lived and worked in Washington D.C., I actually did get a formal invite to one of the White House correspondents' dinners; however, I've attended two. I showed up at one of the White House correspondents' dinners without an invite to the formal party, but I was invited to a pre-dinner cocktail party. Both events were held at the Washington Hilton. At this cocktail party I managed to find a sucker who had just been stood up. His misfortune turned out to be my good luck. He brought me in as his guest, and it went down as one of the best parties I've attended of all time.
4. Stick with the A-listers.
You have to realize that once you've managed to enter a party in an arguably shady way, you've got to assume that you'll be thrown out at any moment. I think what's kept me from getting the boot from any event is the people I have chosen to associate myself with. You have to look like you belong there — that's why I always went straight for the A-listers. At the DNC party in the Hollywood Hills I boldly introduced myself to the likes of Jon Stewart, Melissa Joan Hart, Christie Hefner, John Fund and Billy Baldwin.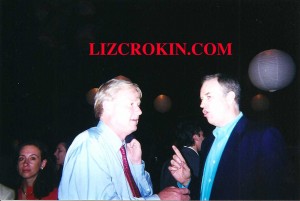 I also injected myself in a heated political debate between Bill O'Reilly (who I had just wrapped an internship with) and Chris Matthews. Did I have any idea what the hell I was talking about? Probably not. Did I look like I belonged there? Apparently! I believe I was one of the last guests to leave that night because I was too busy toasting with the owner of the house.
5. Don't take "no" for an answer.
At the Super Bowl in Tuscon, Ariz., in 2008 my girlfriend and I had VIP invites to the Playboy party. The Playboy party is always off the beaten path so we had hired a car service strictly to take us to that party after we hit up a few other ones. I was informed the party would go till at least 3 a.m., and we arrived a couple hours before. We got told at the door that even though we were on the list, they weren't letting anyone else in. There was no way I was not getting into this party after I had thrown out a few hundy just to get there. So as my friend and I walked away from the entrance, I noticed a little crack in the huge tent where the party was taking place. Within seconds I was shoving my friend through the crack with all my strength. We both literally fell through the hole in the tent only to be greeted by a security man beaming a flashlight on us at the other end. We thought we were for sure screwed, but to my surprise he said, "Come on, this way!" By the grace of God dude ended up leading us straight to the VIP room. I found myself practically sitting on the lap of one of Hugh Hefner's girlfriends at the time, Bridget Marquardt, only minutes after I had been rejected at the door. So the moral of the story is never give up!
I did most of my party crashing when I was in college during the pre-911 era. I had a blast finding my way into high-profile events, and rubbing elbows with celebrities and politicians, which is probably why a career in celebrity journalism became a perfect fit for me. With that said, I don't think I would've ever been so bold or dumb to crash a state dinner at the White House. However, with my track record I'm sure I could've pulled it off if I tried – especially since those two schmucks were able to! The fact that a foolish couple managed to make their way into what is suppose to be one of the most secured establishments in the world is just another reminder of the real issue at hand: We are still not safe! Not even President Barack Obama.
I hope that the White House staff and the Secret Service use this ridiculous incident as a warning. It's sad that it sometimes takes planes crashing into buildings, a shooting at a military base and White House party crashers to remind us that our national security should be this country's top priority.
Now, here's to hoping I'm not called in for a congressional hearing!