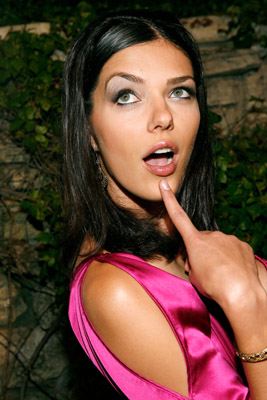 I was out drinking the other night at a Chicago Irish dive with one of my liberal columnist friends - who I don't agree with too often when it comes to politics - and he told me that he not only believes George W. Bush is smart, but also that he can't stand it when people call him "dumb".
"You can't become President of the United States unless you're smart!" he declared.
I literally shook him and said "thank you!" I've only been saying that exact line to people for over ten years now in reference to W.
The next day I was on Adrianne Curry's Twitter page and came across this Tweet:
Watching Obama @ tree ceremony.i think he is brilliant,well spoken,and full of good intent. SO unlike Bush..the blubbering idiot. hate away
Let me tell you, I'm so over people who still call Bush dumb and names such as idiot!
I know the man. I have worked with him. I have had many conversations with him. Not only is he not an idiot – he's smart. Very smart. There are very few people I've met in my life with a memory as sharp as Bush's. Bush can meet a person, have a 30-second conversation with him or her and then run into that same person ten years later and spit out their name based on memory alone without even flinching. He's known for his amazing memory, I've seen it in action and it's incredible. I can't remember a person's name five minutes after they've introduced themselves to me, and I'm no dummy either.
On top of that, to go back to what my friend said, you don't become the leader of the free world, if you're an idiot. That would be impossible! POTUS is probably the most difficult job in the world, and obtaining it is just as challenging. The exclusive club only has 44 members who have had the great honor to hold the position. You also don't become governor of one of the biggest states in the country or earn an MBA from Harvard Business School (the only president who has earned an MBA BTW!) if you're dumb. Now that's just silly to even suggest. I could go on and on about Bush's resume, but you get my drift.
Just because you don't agree with a person's politics doesn't mean that they're dumb. I don't agree with a majority of all of my friends' political viewpoints, and guess what, they are, for the most part, very intelligent and successful people.
Adrianne did a follow-up Tweet to her Bush slam stating this:
Those who think they must insult me or degrade me because of my political beliefs do nothing but show how weak their debate skills are
I suggest that Adrianne does herself a favor and learns how to take her own advice.
Message to Adrianne: Name calling a politician a "blubbering idiot" is exactly the same tactic children use to debate. If you have a problem or disagreement with Bush, or any politician, try debating your cause with the facts and the issues. Name calling a former president who has respectfully stayed out of the limelight to let the new president do his job - with great dignity and class, I might add! - does nothing but make your debate skills look "weak" to use your words. Why is she even making references to Bush anyway? No one's heard a peep from him for almost a full year — who's hating now?
I know Adrianne as well, and I don't think she's dumb. She's a sweet woman who is just misguided. Come on girl, you're better than that!
It's a lot easier to call someone a mean name or accuse them of being stupid than actually using intelligent language to debate the issue and/or issues at hand.
For all the people out there who call Bush "dumb" I got a newsflash for you – all that does is make you look dumb!